If you wish to have a document served electronically to any service contacts on a case, Serve Only is an option to use. When filers click the Submit button, the application sends the document(s) to the court only. The court does NOT file them. The court then sends Notification of Service emails directly to each of the service recipients, and it notifies us of this service by any of our customers.
Quick Steps
Scroll down for more detailed instructions.
From the Dashboard, click Create Serve Only
Select your Case – Choose your case, or click Add a Case to retrieve your case from the court's system.
Click the Click to Upload link to add your document, and also add a document description if that court allows it.
Filing Party – Choose the party or parties you are filing on behalf of.
Service Contacts – Add the service contacts to your filing for whom you want perform the electronic service on.
Review & Submit – review all information for accuracy, and Submit Service.
Create Serve Only
From the Dashboard, click Create Serve Only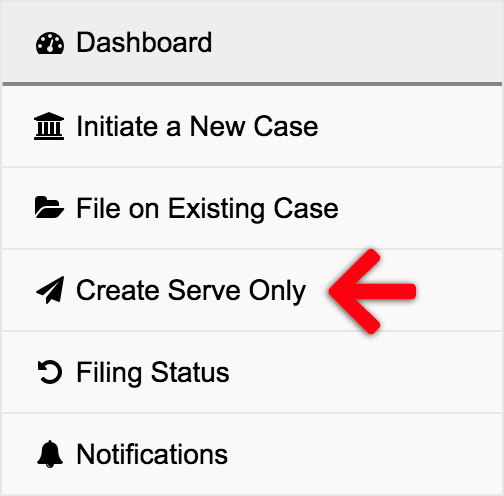 Congratulations! You have submitted your document(s) to the court for electronic service. The court has now sent the documents to the service contacts listed, and it will record when the recipients receive and open them.